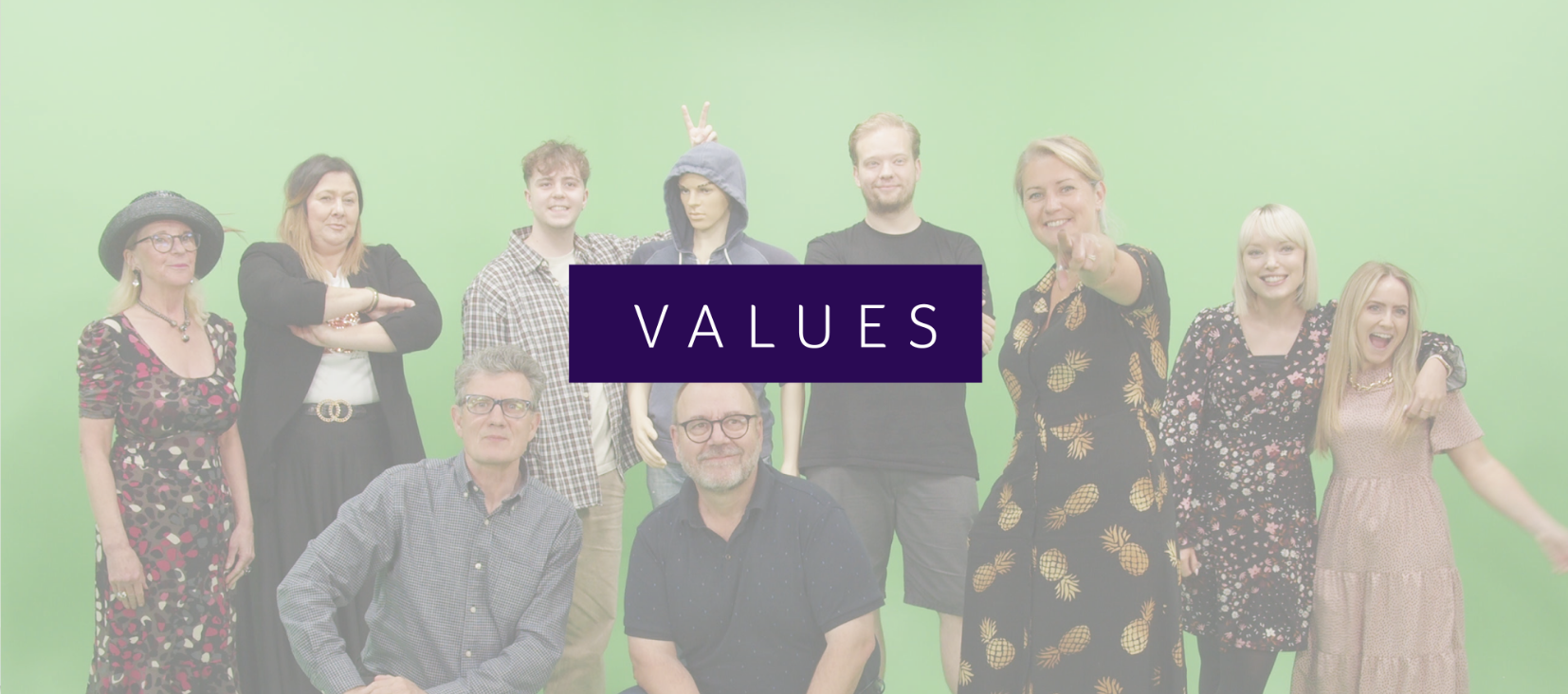 At Purple Monster our values are not just words on a page; we live them every single day.
We use our values as a way to keep us honest and accountable to ourselves, our colleagues and our clients. Rather than just writing them down, we of course had to share them differently. in our own special Purple Monster way.
Click the videos below to see how we have brought our values to life...
Treating everyone individually
People do not think the same. Everybody is different and deserves to be treated respectfully and individually. We don't like to bracket people together and we don't believe that a certain 'generation' is a homogenized bunch of automatons. We respect people's diversity and difference and relish the wide experiences that individuals bring. We believe in support, nurturing and trust and celebrate each other's successes.
Finding inspiration everywhere
All of our values have equal importance but this one is part of the DNA of the company so needs less conscious thought because it is who we are. We are constantly looking to be creative and that creativity comes from Inspiration. We may be inspired by a piece of music or a work of literature, or even a linked in post or something on the TV but we are looking for and finding inspiration for our creative work anywhere and everywhere. We are curious about ourselves, our clients, their work and the world and we pride ourselves in always delivering a creative experience.
Consistently delivering high quality
Of course, quality is important to us. Our work feels personal and when it doesn't go as well as we would like, we feel it very keenly and personally. We are not arrogant enough to say that everything is 100% perfect all the time, but that is our aim. As such, we are all prepared to roll up our sleeves to ensure that we are always improving. If we work with you we will always do our best work and go to great lengths to ensure we deliver on our promises.
Caring about colleagues, clients and environment
We care about a lot of things. We care about people and their potential, whether that be our own people or the partners and clients that we work with. We believe in each other and relish other's successes, always choosing kindness and the inclusion of all. As people with an artistic heritage, we take our work very personally and care about the process and the outcome. But in these days of global planetary threat we also care about the environment too. It's why we reduce travel wherever possible and take steps to minimize our impact on the planet. It's why we will always recommend virtual, first.
Bringing lightness and laughter to all our work
If you have laughter as one of your values, then there is a danger that you might not be taken seriously. We are not frightened of that. We have been in business a long time and have seen what permanent serious does to people. It's called a grave for a reason! We encourage you to enjoy your experience with us and we can be sure that as Alan says, 'If it's not fun we're not coming'. We take things seriously, but we know when to laugh and we believe that we learn better when we're engaged and in retaining a modicum of levity ensures that we to take the weight off peoples' shoulders, not add to it.