Sally Bee - Don't go faster than your guardian angel can fly!
Our studio...on the move!
We have recently undertaken a brand-new challenge at Purple Monster and decided to shrink our studio to fit in a travel case. I know! Weird, right. In this blog we explore why, how and the top things we have learnt (so far) while undertaking this activity. So…
Why?
A friend of Purple Monster, Sally Bee, had decided to share her extraordinary life experiences through a series of 45-minute-long TV episodes. Featuring special guests and a live studio audience on site at our partners, 1 Mill Street in Leamington Spa, Sally tackled some big important life topics such as imperfections, death and grieving, confidence, empowerment and many more. She wanted to create a proof of concept for putting in front of Netflix and ITV. In need of a streaming provider, Sally approached us to see how we could help her stream her episodes live to Facebook to a wider online audience… A challenge for the studio team!
So how did we approach this challenge?
The idea: Take all of the expertise and convenience of our production studio in Warwick and box it all up into a Volkswagen Golf sized pile, wrap it up into flight cases and deploy it around the site at 1 Mill St. Hey Presto A TV studio!!!.
For those of you interested in the technical challenge...we boxed up NDI video, network powered cameras, our new Skaarhoj PTZ controller, radio mics, assorted cables and tech support hardware and a vMix rig, boxed it up into flight cases and transported it across town to 1 Mill St.
Our tech team visited the site, working with their technical support engineer to ensure the best connection for our production network. As the equipment came together and the concept was developed, rigorous testing took place, various options were considered and a final plan was made. We then double tested it on a dummy run, with various Monsters having a good chat on the office sofas. The good news; it all worked!
Then the rehearsal for the pace of our setup and delivery of the full rig in the green screen studio. Handily mapping out the space with various studio production paraphernalia. There are two static Blackmagic Design cameras for wide shots, and two new fabulous moving head Panasonic UE100 PTZ cameras for all of the close-ups.
Once on site and a couple of hours before the event, the team arrived, unloaded and set up the kit, arranging the audience space and set, lighting the scene, testing the audio, balancing and calibrating the cameras and finally confirming the stream details. All of the cabling was secured with 100m of matte white gaffa tape (for everyone's safety) and we waited for our audience to arrive as the final piece of the puzzle.
Once the presenters were in place, their microphones were tested and the holding card was in place. Graphics, overlays and music were previewed and the stream encoder was connected. Finally, the event went live on facebook, video and audio was confirmed as working and our technician counted down from 10, with a silent gesture of fingers for 3, 2 and 1. Boom. We are live!
For 40 minutes Sally Bee hosted an insightful team of guests and a captivated audience, ready with questions and examples of experiences from their own lives. The technical team are cueing up shots and mixing the various microphones in the production. Quick cuts, quick thinking and responsive equipment allows the presentation of the show to appear flawlessly. But as quickly as the show went live, the music faded in and the audience cheered. The team faded back to the holding card and the online audience are chatting with messages of thanks and reverence. 'Are we out Sam?' came the request from Sally.
The team were pleased with the result but are struck with the realisation of an ultra quick de-rig, packing up the car and unloading back to Warwick, in readiness for another Studio based live stream tomorrow. At 10:30pm the team has finished the job and are off for a well- earned rest.
Our top three tips for a mobile studio...
Never underestimate the noise of a fan on a hot day, especially with 8 live mics!
Facebook and its event management pages are designed in a peculiar but unique way.
Doing live TV behind a live audience is as full of pressure as it is excitement.
Here is what Sally had to say about her experience with us: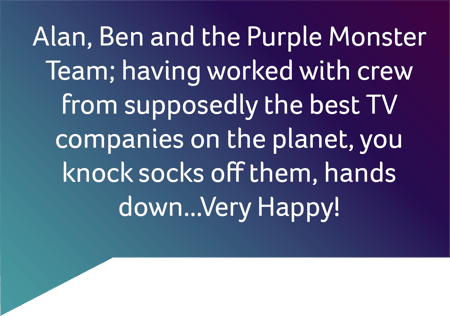 We are very proud to be supporting Sally on her mission and looking forward to the remaining episodes. Watch this space for the full recordings for you to enjoy at your leisure.