Who We Are and Where We Come From...
Purple Monster has been in business now for 27 years. We started life as a drama-based training company but are now most accurately described as a creative events and communications agency. After spending our first 10 years in Birmingham we moved to more leafy suburbs and have been in two places at once since 2020. That's because our studio is in Warwick but we also share the coworking space at 1 Mill Street in Leamington which is a fantastic shared working hub.
There are 9 of us in our current incarnation but 1 Mill Street offers an interesting diverse network of freelance folk who support us in many things that we do as well, so we are never short of willing volunteers helping to deliver for our clients every day.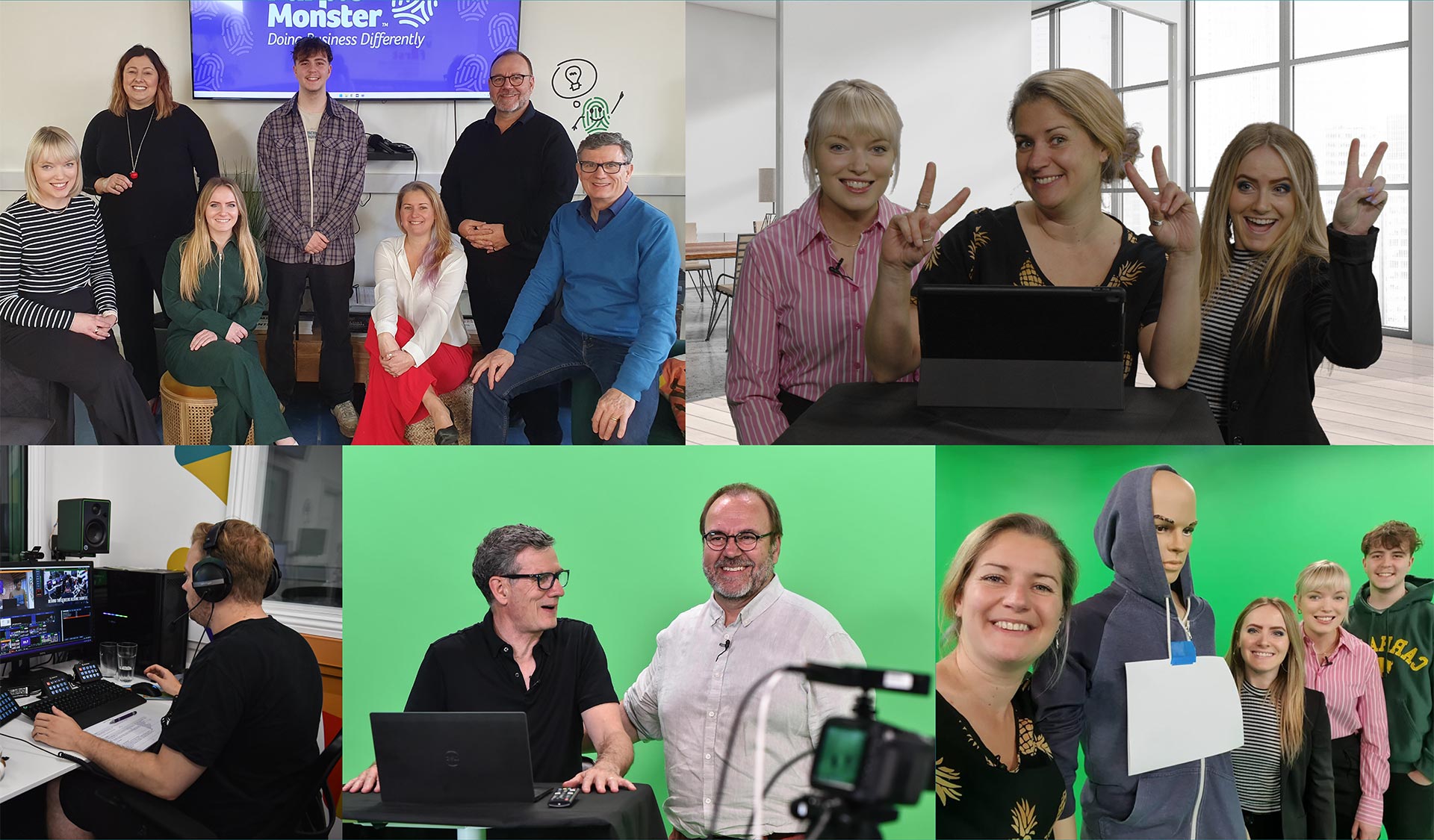 There are three strands of work that we deliver:
In person meetings workshops and conferences for large corporate clients – there is always engagement required when rolling out a new strategy, introducing a new leader or bringing in a new business requirement. Our skill comes in designing events that entertain, engage and inspire.

We do the same in the hybrid and virtual world. Internal live streamed meetings, Town Halls and conferences that have the same design criteria but this time, run from our green screen studio to anywhere in the world.

Communications and engagement materials ranging from process maps, internal explainer videos, more glossy corporate videos and anything visual that will help to lift content from the prosaic to the poetic.
So how do we work?
LISTEN - DESIGN - DELIVER
First of all we listen and collaborate really carefully with a close design team, made up of our team and the client. In most cases you know what you need but not necessarily the most engaging way to get it across. That's when we will pull together ideas and collaborate in the final part, the delivery.
Whether we're putting on a huge event around the globe or running a team meeting online from our studio, or creating a really impactful video for you, the process is always the same. The design is strong, we have engaging themes and content and the whole experience hangs together in such a way that everyone can enjoy it, reflect, and say "That was so memorable."
So what is it that we do that's unique?
Another one of our values is that we bring lightness and laughter to all of our work. But we also ensure we maintain the serious intent behind your messages. Using skills learned in the Performing and Visual Arts we always seek to land things powerfully because we appreciate and consider the innate human emotion behind what people are trying to do.

And finally, we love what we do and enjoy working with new people all the time.

Thankfully, this makes us nice people to work with (we hope 😜)