Sam
Studio Manager
Sam is our Studio and Technical Manager. He joined us in April 2023 after working for us on our shows and helping to develop our next big step.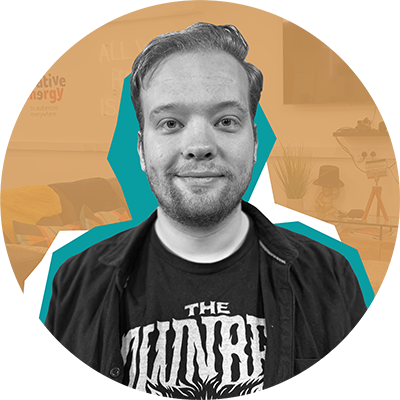 Before working with us, Sam was out around the world as an Audio Visual technician, helping to deliver huge live events with big screens, big speakers and lots of running around! Sam began as a Freelancer for us at Purple Monster, helping with the production of our live streams and sometimes heading out with the team, a boom mic and a camera to make supporting materials for our clients. Now he can be found in our studio, working on how we push the boundaries of our technical offering to deliver top notch streamed events.
In his spare time, doing nothing is rarely an option. Whether it's playing drums for people out there on the internet, brushing up on cooking skills, following his favourite bands around on their tours or getting stuck into a late night session of World of Warcraft. With all of this there was still time for Sam to get married last year, but still waiting to get a German Shepherd to maintain the continuing lack of calm.
If you're lucky enough to be a live guest in our productions you'll meet Sam and still be left wondering how we deliver all of our high quality events!